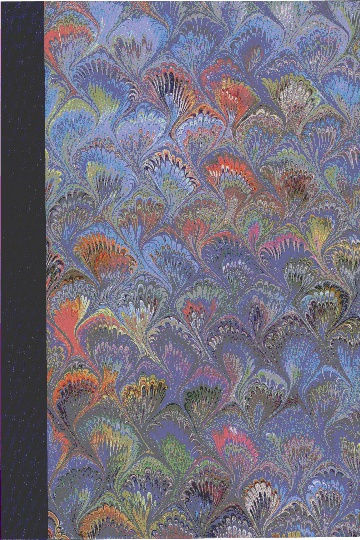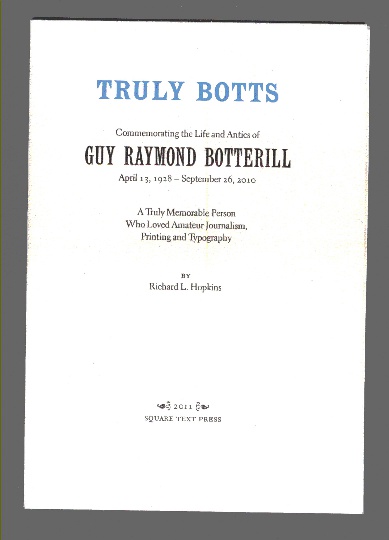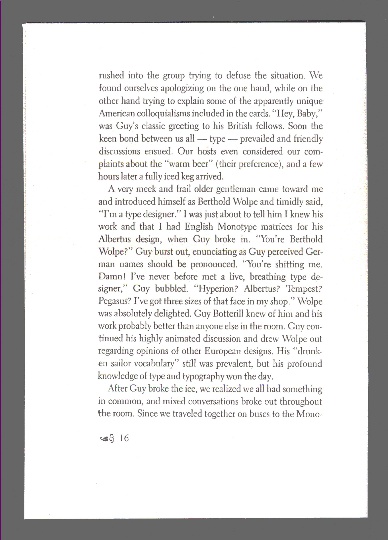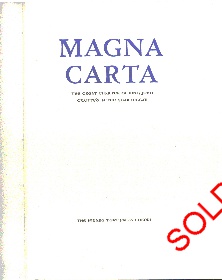 Letterpress Printed Books

Truly Botts
by Richard Hopkins


A tribute to the late Guy Botterill who was a fixture at hobby printing and amateur journalism conventions over the past thirty years.

Typeset on the Linotype in 14 pt. Electra. Forty copies printed on Hahnemuehle Biblio paper. Hardbound with cloth spine and faux marbled paper-covered boards. About 7x10 inches. 32 pages. $35.

All books printed by letterpress using metal type by Phillip Driscoll.

Please add $5 for shipping to all addressing in the United States, no matter how many books you're ordering. For other countries, please email me, and we'll work something out.

I am not set up to accept credit cards, so please send a check made out to Phillip Driscoll
to 135 East Church Street, Clinton, Michigan 49236.

Magna Carta - The Great Charter of King John

The original Latin text plus a modern English translation.

Typeset on the Linotype in 12 pt Worrel Uncial. Seventy copies
printed on Mohawk Superfine. Hardbound in faux black leather over boards.
About 9x11 inches. [52] pages. $39



Death of a Pressman

By Fritz Swanson.
A Remembrance of Tom Trumble, Letterpress Pressman,
and a Meditation on Preservation and Nostalgia.

Illustrated. Typeset on the Linotype in 14 pt Primer.
Sixty copies printed on Mohawk Superfine.
Hardbound in faux leather over boards by Jeannine Gruska.
About 7x10 inches. [38] pages. $29